We usually eat many recipes with Potol but this Potol Korma Recipe is very little cooked or many people don't want to make it. But believe me this Potol Korma Recipe is an amazing recipe, Which if you cook this Potol recipe once, you will definitely want to cook it again and again. Definitely check out this Potol Korma Recipe today, make it at home and feed it to your loved ones and everyone will love it and like it very much. Let's see how you cook this recipe.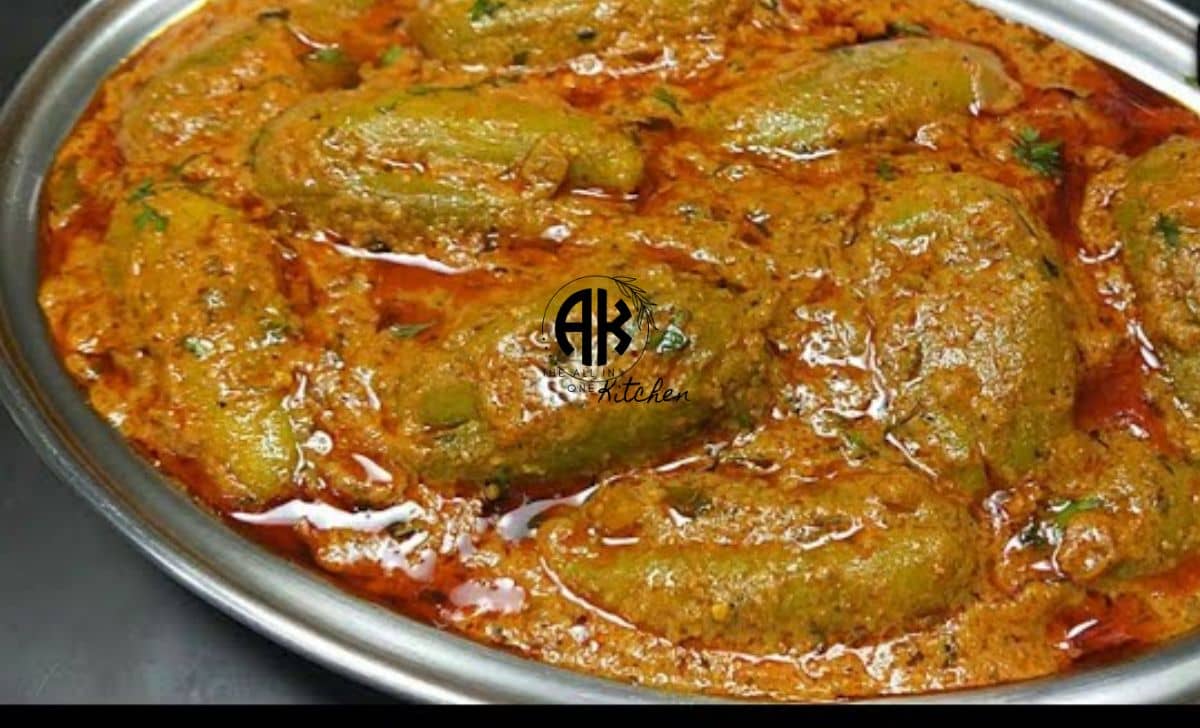 Table of Contents
What is Potol Korma or Parwal Korma Recipe?
A well-liked Bengali and Odia dish called Potol Korma or Parwal Korma is made with a pointed gourd (parwal) in a creamy, mildly spiced gravy. Typically, a cashew-almond paste is used to prepare the dish, giving it a rich and nutty flavor. Onions, ginger, garlic, tomatoes, coriander, cumin, and garam masala are additional frequently used ingredients.
The pointed gourd must first be peeled and cut diagonally in order to prepare Potol Korma. Once in oil, it is fried until golden brown. The onion-nut paste is then cooked until fragrant in the same oil. When the tomatoes are soft, the ginger-garlic paste, spices, and other ingredients are added. The gravy is reconstituted with water, then brought to a boil. Then it is combined with the fried potol and cooked until tender. With rice or roti, the korma is served hot and garnished with chopped cilantro.
How long does potol take to cook?
Potol (pointed gourd) cooking time is influenced by the method of preparation and the thickness of the slices. Potol will cook in a pan on medium heat for about 5-7 minutes if it is thinly sliced. Cooking time for thickly sliced potol is between 10 and 12 minutes.
To prepare potol, consider these suggestions:
Before slicing, thoroughly rinse the potol to get rid of any grit or dirt.
Remove the large seeds from the potol before slicing it.
To cook the potol more quickly, thinly slice it.
Add a little oil to the pan if you're cooking the potol to stop it from sticking.
The potol should be cooked until it is tender but still slightly crunchy.
A potol that has been overcooked will become mushy.
Here are a few recipes for cooking potol:
Stir-fry: Put a little oil in a pan and heat it up. Stir-fry the potol slices for 5-7 minutes, or until they are tender.
Place the potol slices in a steamer basket, cover, and steam for 5 to 7 minutes, or until they are tender.
Roast: Set the oven's temperature to 400 degrees. Sliced potol should be mixed with oil and your preferred seasonings. Roast until tender, about 10 to 12 minutes.
Boil: Bring water in a pot to a rolling boil. Cook the potol slices for 5-7 minutes, or until they are tender.
What are the advantages of eating potol?
Some advantages of eating potol (pointed gourd) include the following:
The amount of fibre in potol is sufficient to maintain a healthy digestive system. Fibre both prevents and keeps constipation at bay.
Potol is a low-calorie vegetable that is a wise choice for those trying to control or lose weight.
Vitamins A, C, and K are especially abundant in potol. The body needs vitamins K and A for blood clotting, A for good vision, and C as an antioxidant to help the body fight oxidative stress.
Calcium, magnesium, and potassium are among the many minerals found in potol. To have strong bones, healthy muscles, and a healthy heart, you need calcium, potassium, and magnesium.
Studies have shown that the cholesterol-lowering properties of Potol. This is because potol contains soluble fibre, which may aid in binding to and eliminating cholesterol from the body.
Vitamin C, an antioxidant that aids in protecting the body from harm and may support a stronger immune system, is abundant in potol. Additionally essential for the immune system is vitamin C.
Since potol is a safe and healthy vegetable, people of all ages can typically eat it.
Read More Delicious Recipe
Best Strawberry Cheese Cup Cake (No Bake)
The Perfect Subgum Wonton Soup
Best Malabar Spinach Recipe with Fish Head
A Creamy Delight Paneer Lababdar Recipe
2 Amazing Cucumber Salad For Summer
Best Ever Instant Pot Air Fryer Boneless Chicken Breast Recipes
How To Make Creamy Mashed Potato Recipe
Easy Chicken Achari Tikka Recipe
Healthy Lychee Watermelon Fizz Mocktail Recipe
Delicious Air Fryer Salmon Bites Recipe
Roasted Garlic Mashed Potatoes with Cream Cheese
Air Fryer Chicken Caesar Salad
Best Ever Instant Pot Air Fryer Boneless Chicken Breast Recipes
A Delicious and Healthy Air Fryer Chicken Nuggets
Simple Air Fryer Lemon Garlic Chicken Breast
Delicious and Fluffy Bisquick Pancake Recipe
Best Thai Basil Pesto Recipe Ever
Delicious Orange Jello Salad Recipe
5 Tips for the Perfect Egg Garlic Fried Rice Recipe
How To Make Potol Korma Recipe
Here the Diliciouse Potol Korma Recipe below
Potol Korma Recipe
this Potol Korma Recipe is an amazing recipe, Which if you cook this Potol recipe once, you will definitely want to cook it again and again
Ingredients
10

pecs

Potol ,(Pointed gourds), peeled and partially

Cooking oil – White oil, as needed

1

tbsp

Turmeric powder

1½

tbsp

Poppy seeds

Cashew nuts – 10 to 15 pieces

2

Bay leaf

1

tbsp

Fennel seeds

½

tbsp

Cumin seeds

2

Dry red chillies

4

Cardamom

3

Onion – 3 medium-sized, finely chopped

2

tbsp

Ginger-garlic paste

2

tbsp

Raw chilli flakes

1½

tbsp

Kashmiri chili powder

1

tbsp

Coriander powder

½

tbsp

Cumin powder

2

Tomato paste – 2 medium-sized tomatoes (or 1 tomato and 100 grams of curd)

½

tbsp

Kasuri Methi (optional)

1½

tbsp

Sugar

Chopped cilantro (coriander leaves) – For garnish

Garam masala – As needed

1

tbsp

Ghee
Instructions
To make Potol Korma Recipe) you have to take 9 kg of potol and peel off the front and back of the potol with a peeler. Don't peel the pods completely, leave a little bit from the middle, this will give the pods a better taste. But if you want, you can peel the whole peel.

To make Potol Korma (Potol Korma Recipe) take 50 minutes in a pan

of white oil When the oil becomes slightly hot, put the cut patties in it. Then color

Add 1/2 teaspoon of turmeric powder along with a little salt. Now turn the gas flame to medium

Keep and fry our potol very well. While frying the potol, stir it lightly with your hand

So that the bottles do not break.

On the other hand, take 1.5 teaspoons of poppy seeds and 10 to 15 cashew nuts in a bowl and soak them in water for 10 minutes. Then grind it to a smooth paste.

When about 60 percent of the pods are roasted, they should be removed. As the oil will reduce a little while frying, you have to add a little more oil in between. Now for Foran, you have to give 2 bay leaves, 1 teaspoon of fennel, and 1/2 teaspoon of cumin, besides 2 dry chillies, and 4 cardamoms. Now you have to keep the gas flame on medium and fry this masala until a nice smell comes out from it.

After that add 3 medium-sized onions. You can also use onion paste if you want. Now fry the onion until it turns a little brown. The onion should be added to it to fry it quickly and not like the taste. At this time, you will increase the gas film a little and when the onions are fried, add 2 teaspoons of ginger garlic paste, and 2 teaspoons of raw chili flakes. Now all these should be fried very well.

When the pungent smell of ginger and garlic is gone, add 1.5 teaspoons of turmeric powder, 1.5 teaspoons of Kashmiri chili powder, 1 teaspoon of coriander powder, and 1/2 teaspoon of cumin powder. Now you have to extract all these masalas by reducing the gas flame till the oil comes out from these masalas.

When the masala is cooked well, add 2 medium sized tomato paste. If you want, instead of two tomatoes, you can add one tomato and add 100 grams of curd. Now reduce the flame to gas and cook the tomato well until its raw smell goes away.

If you start without oil from the masala side, you will understand that the tomato will be well-cooked. At this time, you have to add the cashew nuts and poppy seeds prepared earlier. Reduce the gas flame and cook for another five minutes.

After that, add enough water. After mixing the water well with the masala, add the pre-fried pottols. If you want, you can add 1/2 teaspoon of kasuri methi at this time. It tastes much better. Keep the film of gas on medium and boil well. 1.5 teaspoon of sugar should be given to fix the sour taste of tomatoes. Now reduce the flame of the gas and cook the potol for some more time. After that, cover and cook for another 10 to 12 minutes (Potol Korma Recipe).

After that open the lid and you will see that the gravity has reduced a lot and the potals are also cooked well. At this time add some chopped coriander leaves, garam masala and 1 teaspoon of ghee. Once mixed well, Potol Korma Recipe is ready.
Video