Let me teach you today how to make an amazing mocktail called Lychee Watermelon Fizz Mocktail. This is a great Mocktail perfect for your hot summer days. These days this Mocktail will do you a lot of good and quench your thirst. When you go to a park or garden with your family, take this Mocktail along with some ice cubes and enjoy it together. Let's see how to make this amazing Mocktail and what you need to make it and know what are the benefits and what are the disadvantages.
Table of Contents
How do I make a Lychee Watermelon Fizz Mocktail?
It feels fantastic to create a thrilling Lychee Watermelon Fizz drink. Start by harvesting ripe watermelons and fresh lychees. After lychees have been peeled, mix them into a delectable puree. After that, use a juicer to extract the watermelon's juice. The watermelon juice, lychee puree, and a small amount of simple syrup for sweetness should now be combined in a glass. Gently aerate the mixture. Pour cold club soda to provide fizz, then watch the sour magic happen. For an appealing finale, garnish with a watermelon or mint sprig. Every taste explodes with tropical joy, encapsulating the spirit of summer in a glass.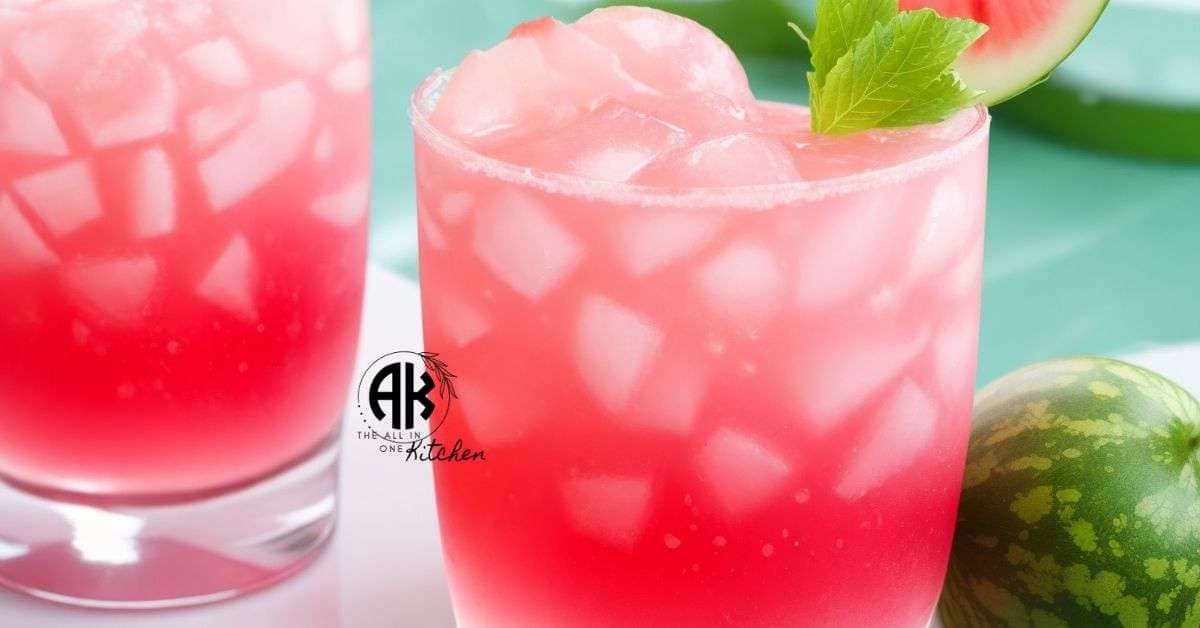 What are The Key Ingredients Needed for This Mocktail?
The delicious Mocktail may be made with just a few high-quality ingredients. Fresh lychees steal the show with their fragrant and sweet flavours. Watermelon that is fully ripe releases its delicious juices, while simple syrup balances the flavour. The chilled club soda, which provides a delicious fizz, is the star of the show. A garnish of your choosing, such as a wedge of watermelon or a sprig of mint, completes this culinary and aesthetic beauty. A mocktail made from these carefully chosen components is both refreshing and memorable.
Can I Customize The Sweetness Level of The Mocktail?
Yes, you have complete control over how sweet your Mocktail is. The sweetness is determined by the amount of simple syrup you use. Increase the syrup for a sweeter indulgence; use less for a more well-rounded flavor. Never be afraid to explore and make adjustments until it exactly suits your palette. Do not forget that the lychees and watermelon's natural sugars also contribute to the dish's overall sweetness.
Are There Any Alternative Ingredients I can Use if I Can't Find Fresh Lychee?
In spite of the fact that fresh lychees have a more flavorful, genuine taste, canned lychees may still be used to create a stunning Lychee Watermelon Fizz. To preserve the authenticity of the mocktail's flavour, make sure they are packaged in natural juices rather than syrup. Before mixing the lychees from the can into a puree, just drain and rinse them. Even though the flavor profile could be slightly different, lychee's essence will surely come through. The hallmark of culinary inventiveness is adaptability, and this mocktail invites your individual touch.
Can I use Frozen Fruits Instead of Fresh Ones?
Frozen fruit may undoubtedly be a useful and convenient substitute for making the Lychee Watermelon Fizz Mocktail. Choose pieces of watermelon and lychee that are frozen and have no added ingredients to guarantee the mocktail maintains its purity. To get the right consistency, let the fruits slightly thaw before mixing. When compared to fresh ingredients, the flavour may be a little more muted, but the mocktail's core stays the same. This flexibility allows you to experience a taste of summer year-round even when fresh food is not in season.
Are There Any Complementary Flavors I can Add to The Mocktail?
If you want to add any other fruit to this Lychee Watermelon Fizz Mocktail then there is no harm in doing so, just be careful not to spoil your mocktail. To enhance your lychee watermelon fizz mocktail, explore a range of complementary flavors. To balance the richness of the fruit and add some brightness, add a dash of lemon-lime juice. Consider using some crushed basil or rosemary leaves for a subtle herbal flair. If you're game, adding a little ginger can add subtle warmth and add complexity to the mocktail. Don't be afraid to let your thoughts wander; Exploration is the source of creativity.
Read More Delicious Recipe
Best Ever Instant Pot Air Fryer Boneless Chicken Breast Recipes
A Delicious and Healthy Air Fryer Chicken Nuggets
Simple Air Fryer Lemon Garlic Chicken Breast
Delicious and Fluffy Bisquick Pancake Recipe
What Is Yellow Watermelon? And 5 Amazing Facts
The Perfect Subgum Wonton Soup
Best Thai Basil Pesto Recipe Ever
Delicious Orange Jello Salad Recipe
5 Tips for the Perfect Egg Garlic Fried Rice Recipe
Healthy Lychee Watermelon Fizz Mocktail Recipe
Here is a healthy Lychee Watermelon Fizz Mocktail recipe that you can make at home: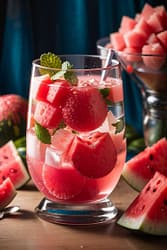 Healthy Lychee Watermelon Fizz Mocktail Recipe
Let me teach you today how to make an amazing mocktail called Lychee Watermelon Fizz Mocktail. This is a great Mocktail perfect for your hot summer days. These days this Mocktail will do you a lot of good and quench your thirst
Ingredients
1

cup

lychee juice

1

cup

watermelon juice

½

cup

club soda

Ice cubes

Fresh mint leaves, for garnish (optional)
Instructions
Combine the lychee juice, watermelon juice, and club soda in a pitcher or large glass.

Stir until well combined.

Add ice cubes and fresh mint leaves to glasses, and then pour the Lychee Watermelon Fizz Mocktail mixture into the glasses.

Garnish with additional fresh mint leaves, if desired.
Video
Notes
Tips:
For a more refreshing drink, use frozen watermelon cubes instead of regular ice cubes.
If you don't have lychee juice, you can use canned lychees, drained and pureed.
You can also add a splash of lime juice or lemon juice to the Lychee Watermelon Fizz Mocktail for a tart and tangy flavor.
What Garnishes do You Recommend for The Lychee Watermelon Fizz?
The garnishes give your Lychee Watermelon Fizz Mocktail the last flourishes that make it a work of art. A single watermelon slice placed on the glass rim as a lovely finishing touch reveals the main taste of the beverage. A fragrant flavor that complements the fruity components may also be added by placing a sprig of fresh mint next to the glass. The garnish acts as a prelude to the exquisite flavor pleasure that each sip promises, so it is more than simply a cosmetic addition.
How Many Calories are in a Serving of The Lychee Watermelon Fizz?
The actual number of calories in the Lychee Watermelon Fizz Mocktail might vary depending on serving size and the particular ingredients used, but a normal drink usually has between 80 and 120 calories. The natural sugars in lychees and watermelon, as well as any simple syrup that may have been added, are the main sources of calories. To control the calorie content to meet your nutritional objectives, use smaller amounts or change the quantity of sweetener.
What are The Health Benefits of Lychee Watermelon Fizz Mocktail?
This Mocktail is not just a delectably cool delicacy but also a healthful delight full of benefits. With every sip, you are offered a health symphony.
Imagine the burst of wetness from the watermelon feeding your body with its rich, deliciousness. On a hot day, it functions as a cool oasis, quenching your thirst and fostering healthy bodily functions.
You get a vitamin C boost from lychees, those little tasty bursts. Your immune system benefits from the powerful antioxidant properties of vitamin C. It fortifies your body's defenses and serves as a deterrent to the stress of daily living.
But that's not all; antioxidants from lychees and watermelon work together to fend off pesky free radicals. They serve as your own watchdogs, guarding you against oxidative stress and aiding in the avoidance of chronic illnesses.
a beauty? This mocktail is a treat that you can enjoy guilt-free. Your taste buds tingle as a delectable sweetness is delivered without the added weight of calories. In your wellness toolkit, it resembles a secret weapon.
Additionally, the natural fiber in lychees serves as a gentle prod for your digestive system, ensuring that everything runs smoothly.
What is The Nutritional Value of Lychee Watermelon Fizz Mocktail?
the 100 calories
carbs in 20 grammes
Protein and fat are both zero grammes.
100% of the vitamin C recommended daily intake
20% of the daily recommended amount of potassium
Is Lychee Watermelon Fizz Mocktail keto-friendly?
The Lychee Watermelon Fizz Mocktail has a complicated connection with the ketogenic diet, according to the research. Although its colorful flavors are alluring, careful consideration must be given to the amount of carbs.
Natural sugars included in lychees, those delicious spheres of sweetness, can tip the carbohydrate scale. The holy grail of the keto journey, ketosis, might potentially be disrupted by these sugars as we dance on the low-carb tightrope with keto.
Oh, the pleasant fragrance of watermelon! It also contributes its own amount of carbohydrates. It's like a delicious fruit puzzle piece that requires careful thought.
Let's now discuss simple syrup. Although that slight sweetness may tempt you, keto fans will see it as a warning sign. Even sugars in syrup form have the power to derail your ketogenic diet.
But hold off on giving up just yet. There are solutions to this conundrum. You may enjoy a modified version that is more in line with your keto objectives by modifying portion proportions, selecting lower-sugar options for sweeteners, and practicing mindful eating.
The Lychee Watermelon Fizz Mocktail may essentially be made keto-friendly with judicious modifications. Even while it might not be a true keto superstar, a careful approach enables you to enjoy its flavors while limiting your carb intake. Always keep in mind that the key to keto success is striking a balance between your need for flavor and your nutritional goals.
How long does Lychee Watermelon Fizz Mocktail last?
The Lychee Watermelon Fizz Mocktail keeps well in the refrigerator for about 24 hours. However, if you consume it within two to three hours of cooking it, the flavour will be at its peak.
How do I store Lychee Watermelon Fizz Mocktail?
Store Lychee Watermelon Fizz Mocktail in the refrigerator in an airtight container.
Is Lychee Watermelon Fizz Mocktail vegan?
That's right—the Lychee Watermelon Fizz Mocktail is vegan. Lychee Watermelon Fizz Mocktail is suitable for vegans to consume because all of its components are vegan.
Is Lychee Watermelon Fizz Mocktail gluten-free?
There is no gluten in the Lychee Watermelon Fizz Mocktail. Lychee Watermelon Fizz Mocktail is suitable for consumption by anyone with gluten allergies or intolerances because all of its components are gluten-free.
Can I make Lychee Watermelon Fizz Mocktail with sparkling water instead of club soda?
Yes, you may use sparkling water for the club soda in the Lychee Watermelon Fizz Mocktail. Though significantly different, the flavour will still be excellent.