Once you make this Delicious & Easiest Instant Pot Chicken Biryani, it is so tasty and delicious that you will never make it any other way. You have to try it once you love it.Instant Pot Chicken Biryani
Instant Pot Chicken Biryani is one of my and mom's favorite dishes that I make quickly to save time and eat a very delicious Chicken Biryani, we save time and eat biryani and my mom loves it very much. I make this one-pot dish, made with fragrant basmati rice, chicken seasoned with a little house spices and caramelized onions, and it has a mouth-watering flavor you can eat with a cold roast and a wedge of lemon. This is a really amazing Instant Pot Chicken Biryani.
Table of Contents
What Makes This Instant Pot Chicken Biryani Recipe & History
Due to the popularity of the electric pressure cooker, which is renowned for its adaptability, the Instant Pot Chicken Biryani was created. Chicken biryani, a traditional Indian dish famous for its delicious combination of chicken, rice, and flavorful spices, serves as the basis. The brand name "Instant Pot" refers to the specific electric pressure cooker model that was used to make this delicious meal. The phrase "Instant Pot Chicken Biryani" seamlessly combines the name of the specific dish (Chicken Biryani) and the method of preparation (Instant Pot). It is a perfect illustration of how this traditional Indian dish can be prepared quickly and easily with the Instant Pot while still resulting in a filling meal.
The rice dish known as biryani, which may be the most popular in India, is available all over the place with only minor regional variations. The drawn-out and complex process of cooking, however, continues to be a recurring element. My family has a treasured adaptation of this well-loved dish that makes chicken biryani into an easy and convenient meal. This recipe has been adapted from various states in India, but my mother's version is my personal favourite and the one I grew up enjoying. With a medley of fresh spices, caramelised onions, and long-grain basmati rice, tender chicken is cooked in this dish to bring out the warmth of the deeply spiced chicken biryani.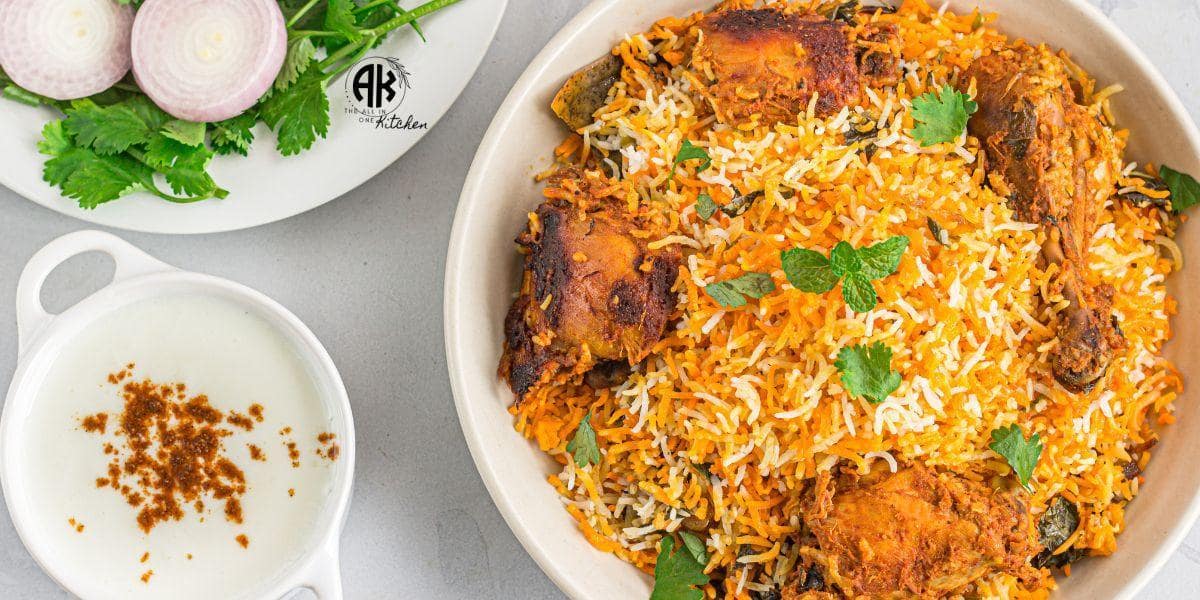 What is Biryani?
Almost all of us know what biryani is, but those who don't know will know today. Let's find out what is Biryani?
Biryani is a historical dish of India which is made with some vegetables, chicken or goat meat or you can add fish and cheese with garam masala, then the meat is marinated with some spices like red chilli powder, turmeric and garam masala.
The traditional cooking method involves slow cooking, where marinated meat or vegetables are layered with rice and garnished with caramelized onions, aromatic saffron and fresh coriander or mint leaves. This combination creates a delicious and aromatic dish that is enjoyed by many.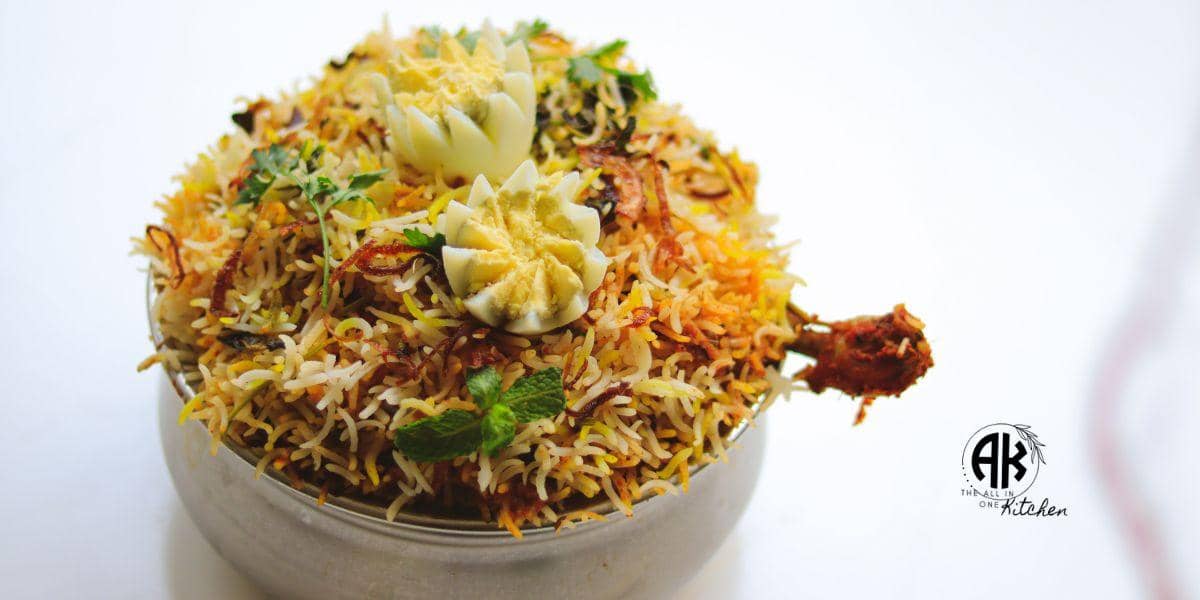 Why you will love this Instant Pot Biryani?
One-Pot: This quick biryani simplifies the cooking process by eliminating the need to cook chicken and rice separately and layer them together. It's all prepared in one pot, resulting in less mess and less food waste. And don't worry, it still delivers the authentic taste of traditional dum biryani.

It's also a time-efficient dish, taking less than an hour to make from start to finish, including marinating and pressure cooking. With only 30 minutes of active effort, you can enjoy this delicious one-pot meal in no time!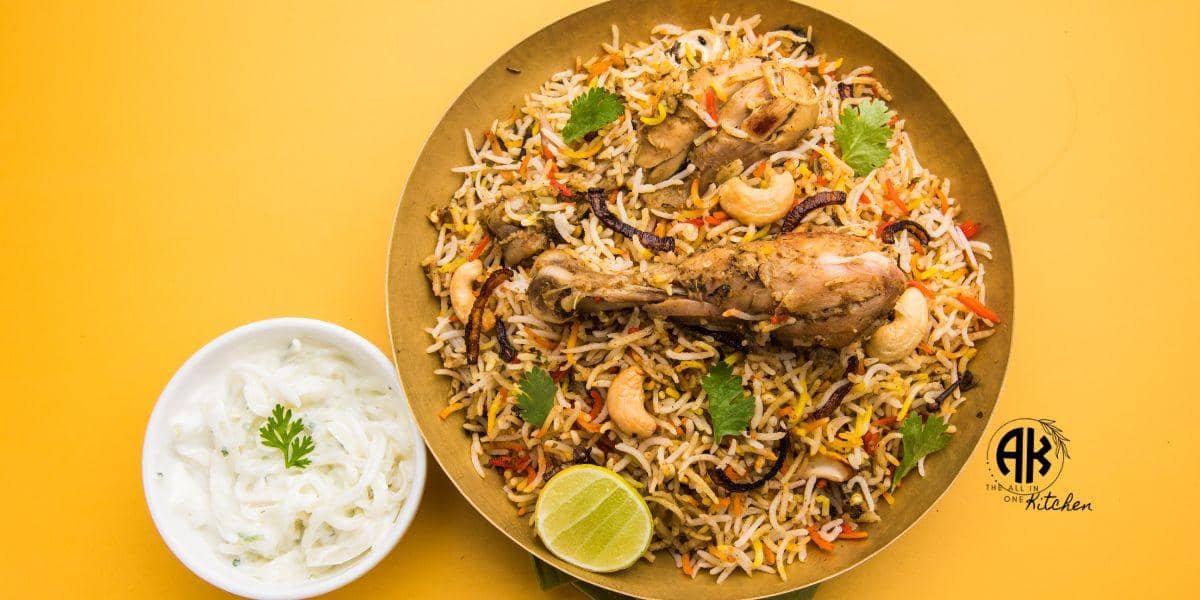 What Does Chicken Biryani Taste Like?
Rice and spiced chicken are combined to make the scrumptious and alluring dish known as chicken biryani. This dish's flavour greatly benefits from the addition of cumin, cinnamon, cardamom, and other savoury spices. A delightful nuttiness is also added by the ghee that was used to prepare the dish.
Which Pot Is Best For Biryani?
The 8-liter Impex Biriyani Pot is a striking Golden Orange color and has a pleasing aesthetic. Carote also sells a high-quality non-stick biryani pot. The Pigeon by Stovekraft Non-Stick Biriyani Pot is an additional choice. Additionally, Cello Prima offers a non-stick biryani pot. For your cooking needs, SOWBAGHYA also provides an aluminum biryani pot.
Which Pot Is Best For Biryani In USA?
Due to their durability and adaptability, stainless steel pots are frequently used to prepare biryani. They are simple to clean and evenly distribute heat.
Non-Stick Pot: Since they require less oil and are simple to clean, non-stick pots are practical for making biryani. Always pick a non-stick cooking vessel that can withstand high temperatures.
Copper Pot: Cooking food evenly is made easier by the excellent heat conductivity of copper pots. They also give the preparation of biryani a traditional touch.
Clay Pot: Traditional Indian cuisine frequently utilises clay pots, also known as handis. They effectively retain heat and infuse a distinct flavour into the biryani, creating a delicious and fragrant dish.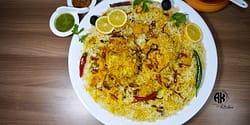 Delicious & Easiest Instant Pot Chicken Biryani
Once you make Instant Pot Chicken Biryani, it is so tasty and delicious that you will never make it any other way. You have to try it once you love it.
Ingredients
1

lb

Chicken boneless cut into 1.5" inch pieces

1

cup

Basmati Rice washed and soaked for 20 minutes

10-12

Cashews

2

tbsp

Ghee

10-12

Raisins

1

Big Onion thinly sliced

2

tbsp

Milk warm

1.5

cup

Water

10

Saffron (Kesar)

½

tbsp

Black Peppercorns

½

tbsp

Cumin seeds

2

pcs

Bay leaf

3-4

Cloves

4-5

pcs

Green Cardamom

1

stick

Cinnamon

½

cup

Plain Yogurt (For marination)

1

tbsp

Garam masala (For marination)

1

tbsp

Kashmiri red Chili powder (For marination)

1

tbsp

Ginger Paste (For marination)

1

tbsp

Salt adjust to taste (For marination)

1

tbsp

Garlic paste (For marination)

¼

tbsp

Turmeric powder (For marination)

2

tbsp

Mint leaves chopped (For marination)

1

tbsp

Lemon juice (For marination)

2

tbsp

Cilantro leaves chopped(For marination)
Instructions
First marinate all the spices, garam masala, garlic and ginger paste, turmeric powder, red chili powder, mint leaves and coriander leaves, lemon juice and curd, and salt as needed, and then mix everything well. Mix well with the chicken and refrigerate for about 30 minutes.

Then we will soak basmati rice in water on one side for about 15-20 minutes

Then we take it to fry (high). Then we will add ghee and chopped onions to it. Fry them until they turn golden brown and caramelize (about 8-10 minutes). When the onions are fried, I will keep some of them separately to garnish the biryani

Note: You can also air fry these onions if you wish and there will be no problem.

Incorporate the remaining ghee swiftly into the pot alongside half of the caramelized onions. Enhance the biryani's spiciness by including sliced jalapeno. Introduce the bay leaves, half of the marinated chicken, and the marinade liquid. Terminate the cooking process. Thoroughly combine the ingredients, scraping the pan with a spatula to eliminate any browning caused by frying the onions. This crucial step ensures that no "burn" signals occur while pressure cooking. Once the browning is entirely eliminated from the pan, blend in the remaining chicken.

I)To cook chicken on the bone, seal the Instant Pot and set the pressure valve to sealing. Choose the Manual/Pressure Cook (Hi) setting and set the time to 4-5 minutes. Release the pressure quickly afterward. Thoroughly mix the chicken, ensuring to scrape the pot's bottom to remove any stuck food.

OR

II)For boneless chicken thighs, sauté them for 2 to 3 minutes, ensuring to scrape the pot's bottom to prevent any food from sticking.

Then strain the soaked rice from the water and pour it over the chicken. To cook chicken on the bone, seal the Instant Pot and set the pressure valve to seal. Choose the Manual/Pressure Cook (High) setting and set the time to 4 minutes. Then quickly release the pressure. Mix the chicken thoroughly, making sure to scrape the bottom of the pot to remove any stuck-on food.

Uncover the instant pot and if the top layer of rice looks undercooked, gently lift it. Next, combine the rice with the chicken in the bottom of the pan, using a silicone spatula for a gentle mix that prevents the rice grains from breaking.

Sprinkle the remaining caramelized onions, saffron infused in milk, and cilantro as garnish. Accompany with Raita, hard-boiled egg, and lemon wedges when serving.

RAITA:

Prepare the raita by whisking the yogurt in a medium bowl, then incorporate onions, tomatoes, and salt, mixing thoroughly. Finally, garnish with fresh cilantro.
Video
Notes
Remove any browned bits from sautéing the onions by deglazing the pot with some of the marinated chicken to facilitate pressure buildup and prevent the "BURN" signal.

Prior to adding the rice, deglaze the pot once again.

Ensure that all the rice is submerged in the liquids before sealing the Instant Pot

Prepare the raita by whisking the yogurt in a medium bowl, then incorporate onions, tomatoes, and salt, mixing thoroughly. 

Finally, garnish with fresh cilantro.. For a medium-spicy Biryani, follow the recipe as is, or for extra spiciness, add jalapeno or an additional teaspoon of garam masala to the chicken. As a tip, while the Sauté function on the Instant Pot is ideal for one-pot cooking, you can also caramelize the onions separately on the stovetop using a non-stick pan to expedite the process and prevent scorching the stainless steel insert, which could trigger a "BURN" notice on newer Instant Pots.

If using small bone-in chicken pieces or boneless thighs, skip the initial 4 minutes of pressure cooking and instead sauté the marinated chicken for 2 to 3 minutes. Next, add a layer of soaked and drained rice and cook under pressure for a duration of 6 minutes.
In terms of nutrition, this recipe contains approximately 503kcal calories, 60g carbohydrates, 20g protein, 18g fat, 7g saturated fat, 75mg cholesterol, 1249mg sodium, 328mg potassium, 2g fiber, 2g sugar, 520IU vitamin A, 5.7mg vitamin C, 71mg calcium, and 1.6mg iron.
Tips to make Perfect Chicken Biryani
Preparation: It's beneficial to gather and prepare all the ingredients before beginning the biryani cooking process.

Marinating the chicken: Allow the chicken to marinate for a minimum of 20 minutes to enhance its tenderness and flavor.

Deglazing: Ensure thorough deglazing of the pot to prevent the occurrence of a burn message.
Opt for high-quality spices: If possible, prepare homemade Garam Masala for an added burst of bold flavor. Here's my mom's Garam Masala recipe.

Ghee for authentic flavor: Utilize ghee to achieve the true essence of biryani. I personally prefer making ghee at home using the instant pot.

Enhance the meal: Pair this biryani with a refreshing raita such as Cucumber Raita and conclude the feast .
I hope you relish this effortless one-pot biryani. Please feel free to share your feedback on how it turned out in the comments section.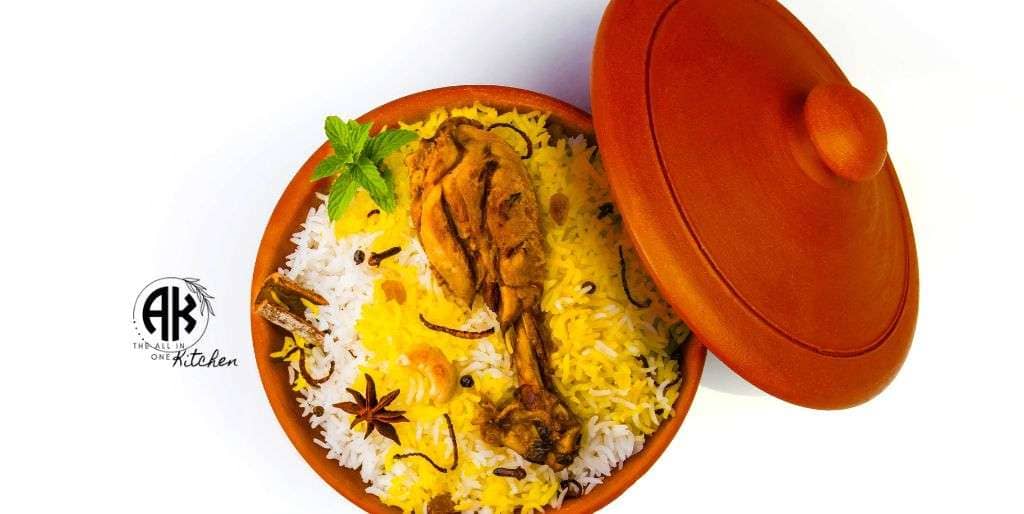 Which pot is best for biryani?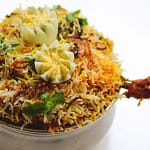 Top 5 Biryani Pots for Homemade Biryani
Impex Biriyani Pot: Impex offers a beautiful 8-liter biryani pot in a Golden Orange color.
Carote Non-Stick Biriyani Pot: Carote provides a non-stick biryani pot that prevents sticking and makes cleaning easier.
Pigeon by Stovekraft Non-Stick Biriyani Pot: Pigeon offers a non-stick pot specifically designed for cooking biryani.
Cello Prima Non-Stick Biryani Pot: Cello presents a non-stick biryani pot known for its high-quality and durability.
SOWBAGHYA Aluminum Biriyani Pot: SOWBAGHYA offers an aluminum biryani pot that is lightweight and efficient for cooking biryani.
These top 5 biryani pots provide excellent options for making delicious homemade biryanis.
Why is my biryani burning in instant pot?
No need to worry. When you see the burn message on your Instant Pot, it means the inner pot has become too hot. The Instant Pot stops heating to avoid burning your food. Just press the Cancel button to turn off the pot. To release the steam and pressure quickly, carefully turn the steam valve to the venting position.
What are the different types of chicken biryani?
Different Types of Biryani
1.Lucknowi Biryani: Originating from Northern India, Lucknowi or Awadhi biryani is known for its fragrant spices such as anise, cinnamon, and saffron.
2.Kolkata Biryani: Kolkata biryani has its roots in the city of Kolkata, West Bengal. It is characterized by its distinct use of potatoes and a light, fragrant flavor.
3.Sindhi Biryani: Sindhi biryani hails from the Sindh region of Pakistan. It incorporates aromatic spices, meat, and rice, resulting in a rich and flavorful dish.
4.Memoni Biryani: Memoni Biryani is a special type of biryani created by the Memon community in India and Pakistan. It stands out with its distinct combination of flavors, which includes the incorporation of dried fruits and nuts.
5.Malabar Biryani: Malabar biryani is popular in the Malabar region of Kerala, South India. It combines spices, meat, and fragrant rice to create a delicious and aromatic dish.
6.Thalassery Biryani: Thalassery biryani, from the Malabar region of Kerala, is renowned for its distinct small-grain rice and the use of spices like fennel and ghee.
7.Ambur Biryani: Ambur biryani originates from the town of Ambur in Tamil Nadu, South India. It is known for its spicy and flavorful profile, often using a special blend of spices.
8.Dindigul Biryani: Dindigul biryani is a specialty of the town of Dindigul in Tamil Nadu. It is characterized by its unique preparation method and the use of seeraga samba rice.
Where did pot biryani originate?
Bhatkali Biryani has its roots in the Persian traders who introduced not just biryani but also a variety of kababs and Indian breads. This biryani is prepared by cooking the meat in a masala made from onions and green chilies, which is then layered with aromatic rice.
What is biryani pot?
The Clay Biryani Pot is a traditional cooking pot used for making many Indian dishes in a natural way. Unlike metal and ceramic pots, these pots are easier to clean and cook food faster. They also naturally enhance the taste and aroma of the spices, preserving the natural flavors of the food.
What is the size of biryani cooking pot?
The Silver Aluminium Big Biryani Pot has a size of 8.5 liters. It comes in a silver color and is manufactured by the brand Royal King. The pot is made of aluminium material, which ensures durability and efficient heat distribution. With a generous capacity, it is suitable for preparing large quantities of biryani or other dishes.
Which city is famous for biryani in India?
Hyderabad is known for its famous Hyderabadi biryani, which originated from the kitchens of the Nizams of Hyderabad. It is considered a culinary gem and is cherished for its unique and flavourful preparation.
Which type of biryani is most tasty?
The most renowned Biryani in India, this particular variant holds a special place in the hearts of Biryani enthusiasts. It is prepared using the dum method, allowing the rice and meat to absorb the perfect blend of flavours
Which rice is most used in biryani?
Basmati rice is widely used for making biryani due to its popularity in the market. It is known for its long grains, non-sticky texture, aromatic qualities, softness, and ability to cook into fluffy and separate grains. These characteristics make basmati rice the preferred choice for biryani.
What is pot in pot Instant Pot?
The pot-in-pot (PIP) method is a cooking technique where you cook food in a small heat-proof pot placed inside the Instant Pot's inner steel pot, container, or liner. It is a practical and advantageous method that provides a wider range of options for what you can cook.
Which country is famous for biryani?
Biryani is a beloved and aromatic delicacy that holds a special place as a celebratory dish in India. It is considered a sublime one-dish meal, as described by historian and food expert Pushpesh Pant.
Who made biryani first in India?
Based on the accounts of numerous historians, biryani is thought to have its roots in Persia and was brought to India by the Mughals. The Mughal Empire's royal kitchens played a significant role in refining and enhancing the biryani. At that time, the Mughal soldiers were observed to be malnourished. To address this, the queen instructed the chefs to create dishes that combined meat and rice, ensuring a more balanced and nutritious diet for the soldiers.
Why is Instant Pot special?
The Instant Pot is a versatile multicooker that provides various functions, including pressure cooking, slow cooking, rice cooking, steaming, warming, and sautéing. With all these features in one convenient appliance, it efficiently reduces the cooking time.