Today I am going to share with you a very delicious recipe called Bread Upma Recipe. I call this is the best bread upma recipe because my uncle's daughter loves it so much. This bread upma is a very simple recipe that can be made at home very easily and quickly. This bread upma recipe is a South Indian-style breakfast or snack recipe that is a healthy meal.This recipe takes about 15 minutes to make or may take a little more time depending on the cook. He likes to eat this food very much. But remember to eat this food hot because the taste is best hot. This meal is perfect for your office breakfast or lunch box!
There are many of us who don't like to cook all the time and there are many who like to cook very much but for those who don't like it, you can cook this bread umma recipe as a morning meal, it will save your time and the cooking will be done. Also, if you want to know what to cook at noon, then you can try my Delicious & Easiest Instant Pot Chicken Biryani. This Instant Pot Chicken Biryani is also very tasty. I have suggested this recipe to you because it is a very favorite dish of mine and my mother so you can try it if you want.
Table of Contents
What is Bread Upma?
In all honesty, bread doesn't need an introduction. Upma is essentially a savory porridge made from roasted rava, vegetables, herbs, spices, and nuts. It is a traditional South Indian breakfast dish that is made in almost every home there.
In terms of flavor and texture, bread upma is completely different from rava upma. However, it is still referred to as upma, perhaps because the same tempering is employed in both recipes. The Bread Upma Recipe from South India does not resemble porridge. In this dish, toast bread is broken up into small pieces and combined with tomato, onion, spices, and other herbs. Each piece of bread is soft and drenched in a masala that melts in the mouth.
The Bread Upma Recipe is typically served with a cup of tea or filtered coffee as a hearty breakfast. To enjoy it, no side dish or condiment is necessary. It may also be provided as a brunch or an after-dinner treat.
I have a huge love for South Indian cuisine and always try new things. The top spots on my list of favorites have been taken by dishes like upma, dosa, idli, and uttapam. At least twice a week, when I was working in Bengaluru, I would always go to a South Indian tiffin shop for breakfast and order Bread Upma Recipe or rava upma recipes. I believe that I became dependent on it and its comforting flavor during that time.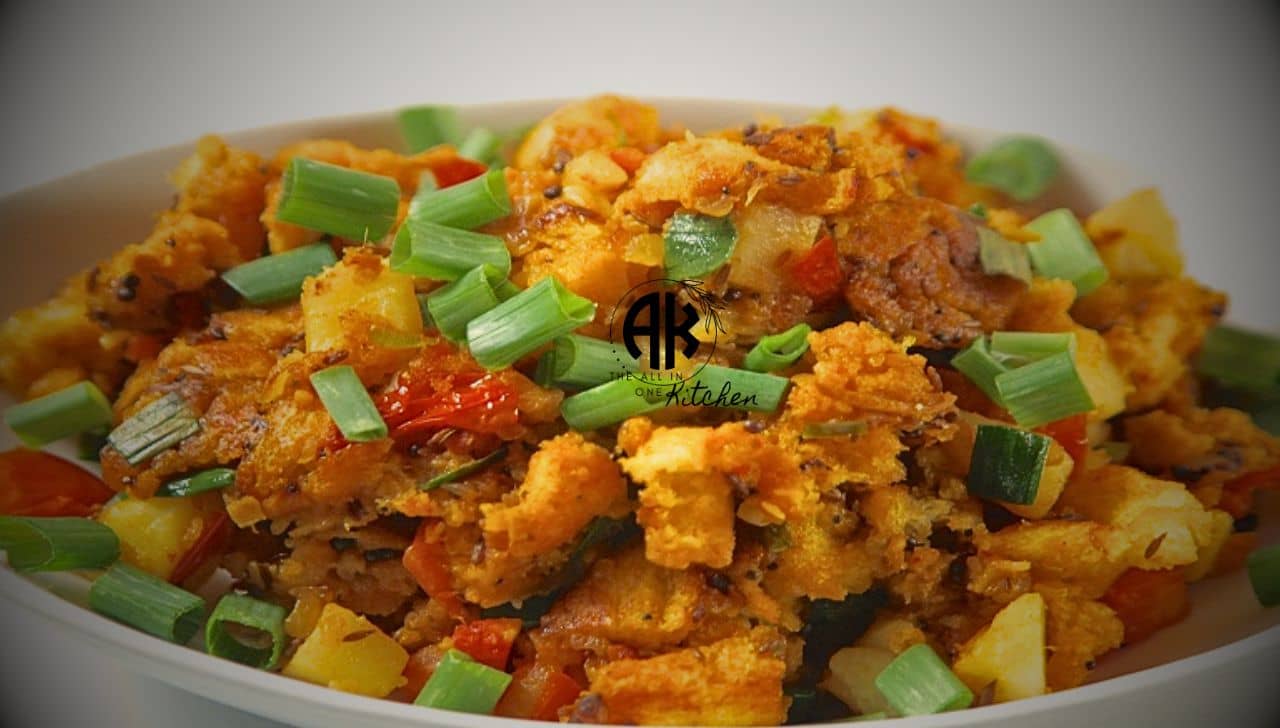 What is upma made of?
What is upma made of? Many of us know it and many people don't know it, but upma is usually made of semolina (called rava or semolina in India). To make upma, first fry our suji lightly and keep it aside. Then the rest of the vegetables, pulses, all are fried with ghee, semolina is fried well and it is made by adding water. But we will make bread upma recipe here so we will use semolina bread.
Why is Bread Upma so popular?
Being vegan
Simple to make
prepares in 15-20 minutes.
For all age groups, perfect
uses few ingredients when cooking
The Bread Upma Recipe can be made with fresh bread but is typically made with leftover bread slices in Indian households. Both are equally effective. Before adding the bread slices to the upma, toasting them is always preferred. Even the smell of freshly baked bread fades away as it prevents the bread from becoming soggy. Please don't throw away any leftover bread slices if you have any the next time. You can make this delicious breakfast recipe in just 15 to 20 minutes.
The Bread Upma Recipe is incredibly simple, and there is very little difficulty in making this dish. It is, in a nutshell, the ideal vegetarian breakfast recipe for a new or inexperienced cook. All of the ingredients needed for the recipe are readily available in any Indian grocery store and are frequently used in South Indian cuisine. The recipe's best feature is that it can be made in larger quantities without requiring extra work or time.
The recipe's 'Instructions' section contains detailed instructions for making Bread Upma Recipe. I've listed all the advice and techniques below so you can succeed on your first try. Let me first share a few interesting facts about the recipe before getting into the recipe itself.
How to Make Best Bread Upma Recipe
Best Bread Upma Recipe We generally know that it is a traditional South Indian family popular Upma recipe. If you are thinking how to make bread upma recipe then don't worry, I will guide you completely. This recipe is so easy and quick that it's a great combo for your morning meal or evening cup of tea. When you find that you have too much bread at home or some bread is sold out then this bread upma recipe is perfect for you. Let us take you through the step-by-step process of making a delicious bread upma recipe.
Here we will guide you step by step to make bread upma recipe. Impress your family with this wonderful recipe.
First, I will add a little 2 tbsp of oil, when it is hot, I will add mustard seeds to it
2. Then add urad lentils (dal) along with chan lentils (dal).
3.Mustard seeds will give ginger, green chillies when lightly fried.
4.When these are fried or when you see that the smell of ginger has gone, then add 2 chopped onions and chopped tomatoes.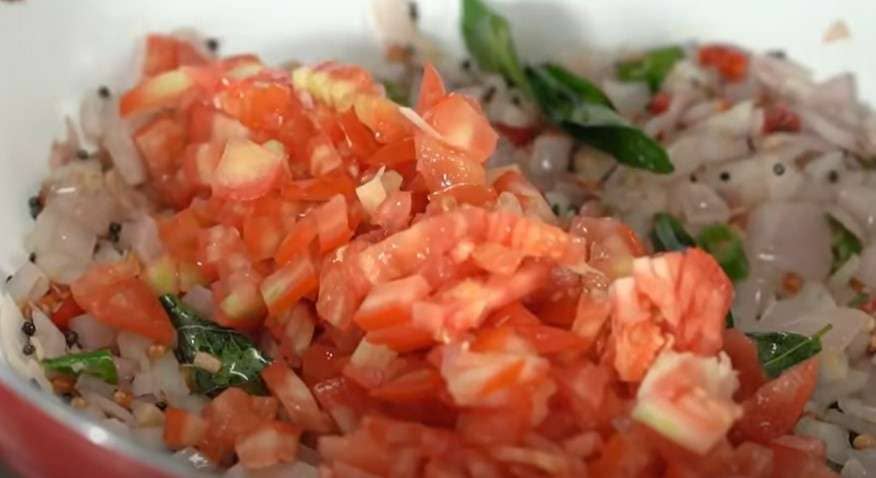 5.When the onion, tomato and the rest of the masala are a little soft, I will add the curd and fry it well again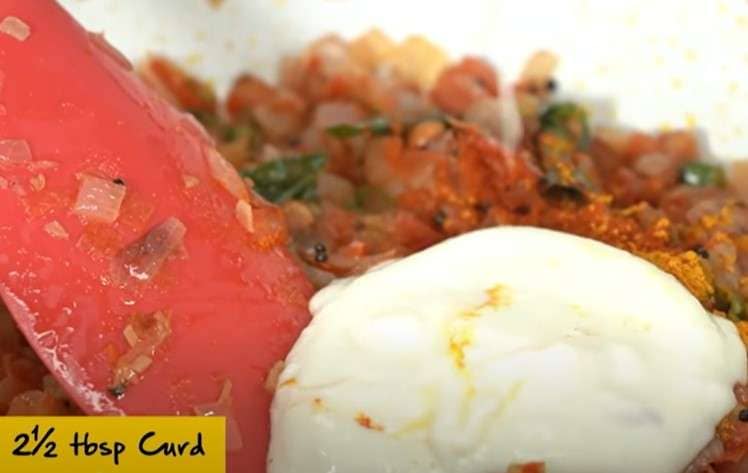 6.After a little market, cover some food and after market, water will be given to it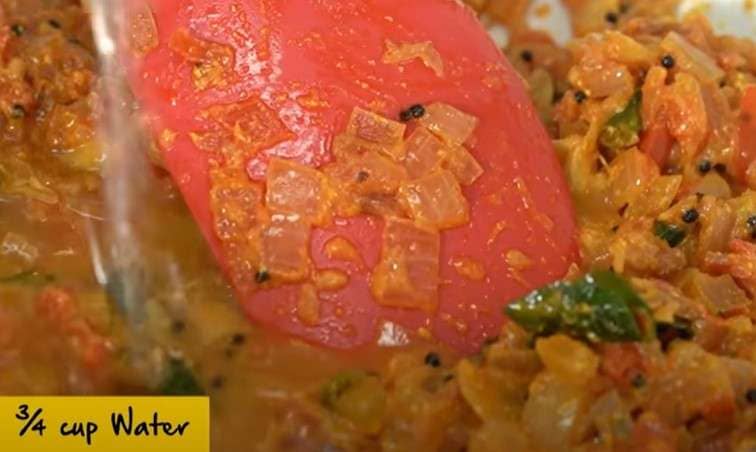 7.Then put the bread cubes you have cut into it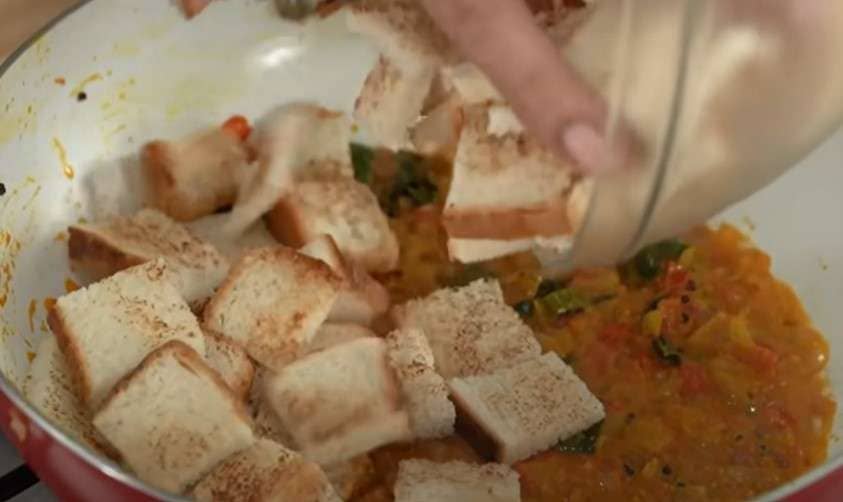 8. Then I will cover it a little by stirring it lightly
9.It's done your cooking now put the garnish on it.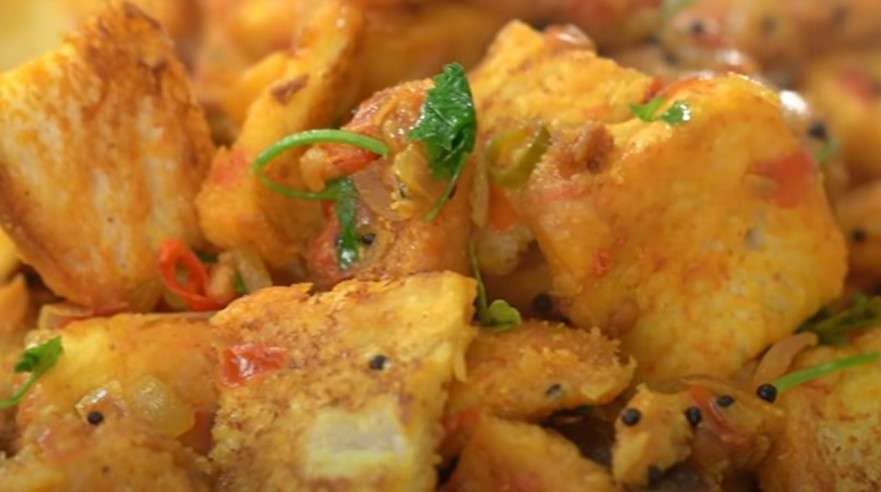 10.I used cashew nuts and almonds for garnish and some coriander leaves
Bread Upma Recipe Ingredients
Here I will see what ingredients I used for this recipe.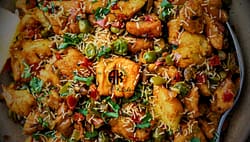 Best Bread Upma Recipe
Experience the ultimate flavor with the best Bread Upma recipe, a delightful twist on the classic Indian breakfast.
Ingredients
2

tbsp

oil

1

tbsp

mustard seeds

1

tbsp

whole urad

1

tbsp

 Chana Dal

1

 sprig curry leaves

1

inch

ginger – chopped

2-3

 fresh green or red chillies – chopped

1-2

 medium onions – chopped

2

medium tomatoes – chopped
½

tbsp

 turmeric powder

½

tbsp

red chili powder

2

tbsp

curd (yogurt)

¾

cup

¾ cup wate
Salt to taste

9-10

 Toasted Bread Slices – Cut (Bread Slices)
Fresh Coriander Leaves – Roughly torn
For roasted nuts

1

tbsp

ghee(butter)

10-15

 cashew nuts

2

tbsp

 groundnuts (peanuts)
Instructions
Heat oil in a pan and add mustard seeds, whole urad, chickpeas.

Now add curry leaves, ginger, green or red chillies, onions and saute until translucent.

Then add tomatoes and cook until soft.

Add turmeric powder, daisy red chili powder, curd and fry for a minute on medium flame.

Now add water, salt and bring to a boil then add the fried bread slices, cover with a lid and let it cook for half a minute then toss it well until everything is fully coated.

Finish with fresh coriander leaves and mix everything one last time and serve hot on a serving plate and garnish with roasted cashews and peanuts, fresh coriander leaves.
Video
Notes
For roasted nuts
Heat ghee in a small pan then fry cashews and peanuts until light golden.
Then remove and keep aside for further use.
Garnish
For the Bread Upma Recipe
Roasted cashew nuts and peanuts.
Fresh coriander leaves.
Bread Upma Recipe Nutrition Info (Approximate Values)
Read More Delicious Recipe
Best Strawberry Cheese Cup Cake (No Bake)
The Perfect Subgum Wonton Soup
Best Malabar Spinach Recipe with Fish Head
A Creamy Delight Paneer Lababdar Recipe
2 Amazing Cucumber Salad For Summer
Best Ever Instant Pot Air Fryer Boneless Chicken Breast Recipes
How To Make Creamy Mashed Potato Recipe
Easy Chicken Achari Tikka Recipe
Healthy Lychee Watermelon Fizz Mocktail Recipe
Delicious Air Fryer Salmon Bites Recipe
Roasted Garlic Mashed Potatoes with Cream Cheese
Air Fryer Chicken Caesar Salad
Best Ever Instant Pot Air Fryer Boneless Chicken Breast Recipes
A Delicious and Healthy Air Fryer Chicken Nuggets
Simple Air Fryer Lemon Garlic Chicken Breast
Delicious and Fluffy Bisquick Pancake Recipe
Best Thai Basil Pesto Recipe Ever
Delicious Orange Jello Salad Recipe
5 Tips for the Perfect Egg Garlic Fried Rice Recipe
What is upma made of?
Upma is a popular dish that originates from South India and is primarily made using semolina, also known as sooji or rava. This tasty treat is created by cooking roasted semolina with a mix of vegetables, spices, and sometimes nuts, resulting in its famous light and fluffy texture.
To make upma, start by roasting semolina in a small amount of oil or ghee until it turns a golden brown color, which gives it a delightful nutty taste. Then, sauté a combination of vegetables like onions, green peas, carrots, and bell peppers with mustard seeds, urad dal (split black lentils), curry leaves, and occasionally green chillies. Incorporate the roasted semolina into this mixture and cook it with water until it absorbs the liquid and reaches the desired consistency.
For added flavor, season the upma with salt, turmeric, and various spices based on personal preference. It is often garnished with fresh coriander leaves and served hot as a breakfast or snack. Different variations of upma exist, such as tomato upma, vegetable upma, and masala upma, which incorporate extra ingredients to enhance the overall taste profile.
What is white upma made of?
White upma, which is also referred to as plain upma, is predominantly crafted from semolina, alternatively known as sooji or rava. The initial step involves roasting the semolina in a modest quantity of oil or ghee until it obtains a delightful golden brown shade. Subsequently, the roasted semolina is cooked with water until it absorbs the moisture and achieves the desired texture. To enhance its flavour, white upma can be seasoned with salt, turmeric, and an assortment of spices based on personal preferences. Typically, it is served hot and savoured as a breakfast or snack.
What is upma in english?
Upma, referred to as upma, is a classic Indian cuisine originating from South India. It features semolina, commonly known as sooji or rava, as its primary ingredient. This savoury dish, often enjoyed during breakfast or as a snack, has a consistency resembling porridge. The preparation involves roasting semolina and incorporating it with an array of vegetables, spices, and seasonings to achieve a delectable and aromatic outcome.
Is upma high in protein?
Upma does not possess a significant amount of protein since its main constituent, semolina, is primarily a carbohydrate source. Although semolina contains a small portion of protein, the overall protein content in upma remains moderate. To boost the protein level, one can opt for incorporating ingredients like nuts, peas, or tofu into the dish.
How many calories are in 2 plates of upma?
The calorie content in 2 plates of upma may differ based on the portion size and the ingredients utilized. As a general estimate, one plate of upma contains around 250-300 calories. Consequently, 2 plates of upma would approximately total to 500-600 calories. Nonetheless, it is crucial to acknowledge that these numbers can fluctuate depending on the specific recipe and serving size.
How many calories are in 100g of plain bread?
The calorie content in 100g of plain bread can differ based on the type and recipe used. On average, plain bread contains around 250-300 calories per 100g. However, it's worth noting that different bread varieties may have slight variations in calorie counts, so it is recommended to refer to the nutrition information on the packaging or consult a specific recipe for precise details.
Is upma good in diet?
Including upma in a balanced diet can be beneficial, especially when made with nutritious ingredients and consumed in moderation. It serves as a valuable source of carbohydrates and provides energy. However, upma alone may not offer a comprehensive range of nutrients. To ensure a well-rounded diet, it is crucial to complement upma with other nourishing foods like vegetables, fruits, and protein sources. Moreover, practising portion control is important to prevent excessive calorie intake. Seeking guidance from a nutritionist or dietitian can help customize a diet plan based on individual dietary requirements and objectives.