Air Fryer Twice Baked Potato is a great recipe that once you cook it, you'll want to eat it again and again—a delightful side dish or even a light meal, Air Fryer Twice Baked Potato is crispy on the outside and crispy on the inside. It is very soft and fluffy. Whenever we indulge in a fancy dinner, Air Fryer Twice Baked Potato is always our top choice to complement our meal. Air fryer really brings a touch of elegance to any food we prepare.
Looking for a side dish with a little kick? Check out our Air Fryer Home Fries, sure to quench your thirst for some spicy goodness. Versatile and easy to make, you'll love this recipe. The main part? You can add your personal touch to these delightful potatoes by stuffing them with mix-ins of your choice. And the icing on the cake – using an air fryer makes this process so much easier than traditional oven baking.
Twice Baked Potatoes with Air Fryer, have the perfect companion to enhance any meal you have – be it a special dinner or a casual gathering at home. Enjoy the contrast of textures and flavors as you bite into the crispy skin and encounter the soft, pillowy center. The addition of chopped green onions adds a touch of freshness, enhancing the overall experience.
Why settle for a mediocre side dish when you can have gourmet treats like the Air Fryer at your fingertips? This recipe is fuss-free and quick to make while guaranteeing a delightful result. So, bring the lure of a fine dining experience to your own kitchen with this simple yet impressive dish!
Table of Contents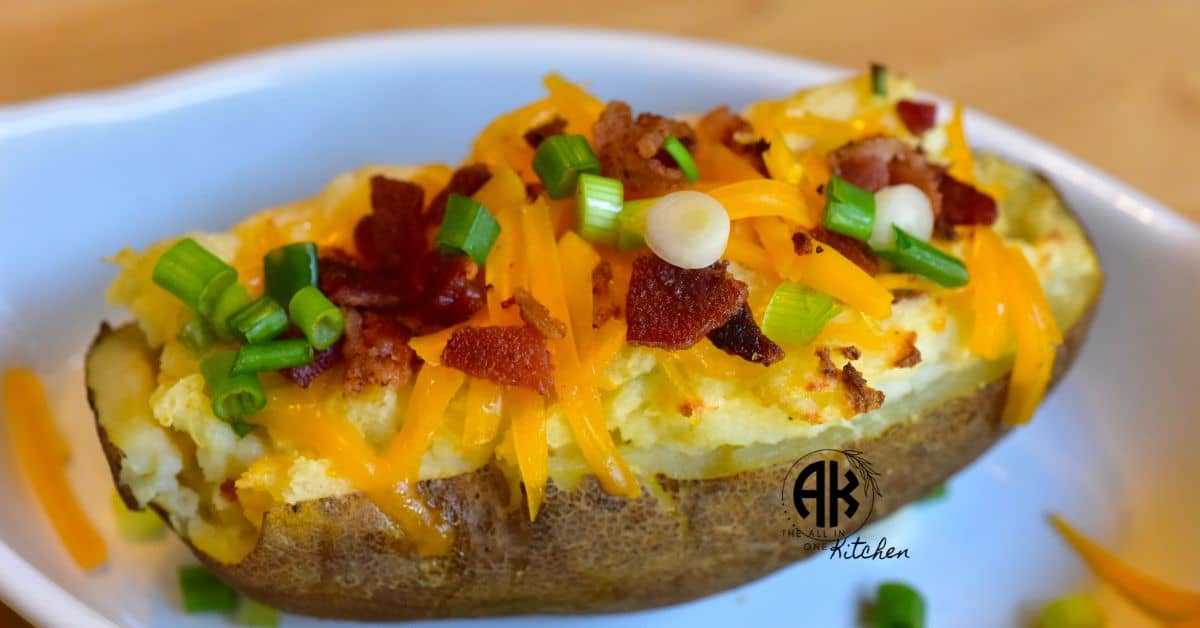 How Long Does It Take To Cook Potatoes In An Air Fryer
Hot air is typically used in an air fryer to cook potatoes, however, the time needed may vary based on the size, kind, and degree of doneness you choose. I'll make a quick guess for you:
French fries or wedges should be cooked in the air fryer for 15 to 20 minutes, or until they are crisp and golden, at 400 degrees Fahrenheit (200 degrees Celsius).
Your favorite potato meals may be enjoyed guilt-free thanks to an air fryer since they get extremely crispy without the use of additional oil. So feel free to indulge in those delicious potatoes!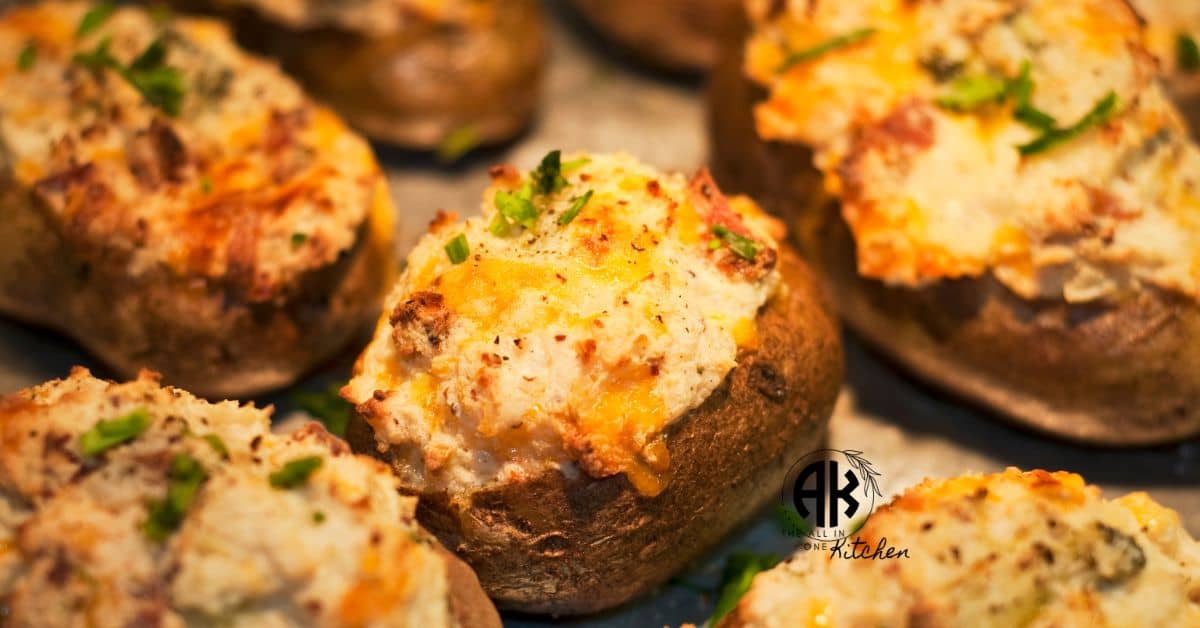 Can I Put Foil in an Air Fryer?
In essence, an air fryer operates like a compact convection oven. Its powerful fan, located either below or behind the heating element, evenly circulates the heat within the confined space. Similar to a regular oven, using aluminum foil in the air fryer is absolutely safe. This versatile appliance offers a convenient and efficient way to cook your favorite dishes, ensuring even cooking and that desired crispy texture without any concerns about using aluminum foil. Embrace the wonders of the air fryer for easy, delicious meals with added convenience and safety!
Is Air Fryer Healthy Than Oven?
In cooking, air fryers excel at circulating hot air around food, while ovens direct heat from one or two directions. When it comes to hygiene, these two methods are quite comparable. Both allow cooking with minimal oil, resulting in healthier meals. However, it is essential to consider the type of food you are preparing and your specific dietary needs. For crispy and delicious food, the air fryer is a fantastic choice, while the oven is versatile for different cooking styles. Ultimately, taking a balanced approach and mindful ingredient choices contribute to a healthy and enjoyable culinary experience, no matter which method you choose.
Can You Air Fry an Already Cooked Baked Potato?
Air fryer is a great option for reheating baked potatoes or cooking Baked Potato Recipe which will save you a lot of cooking time and you will be able to eat a lot of healthy food. However, air fryers are very helpful in reheating your cold food very quickly and efficiently. To get started you need to preheat the air fryer to 350 degrees. Then, place the baked potato in the air fryer basket and leave it until cooked. In no time, you'll have a perfectly reheated, piping-hot potato ready to enjoy!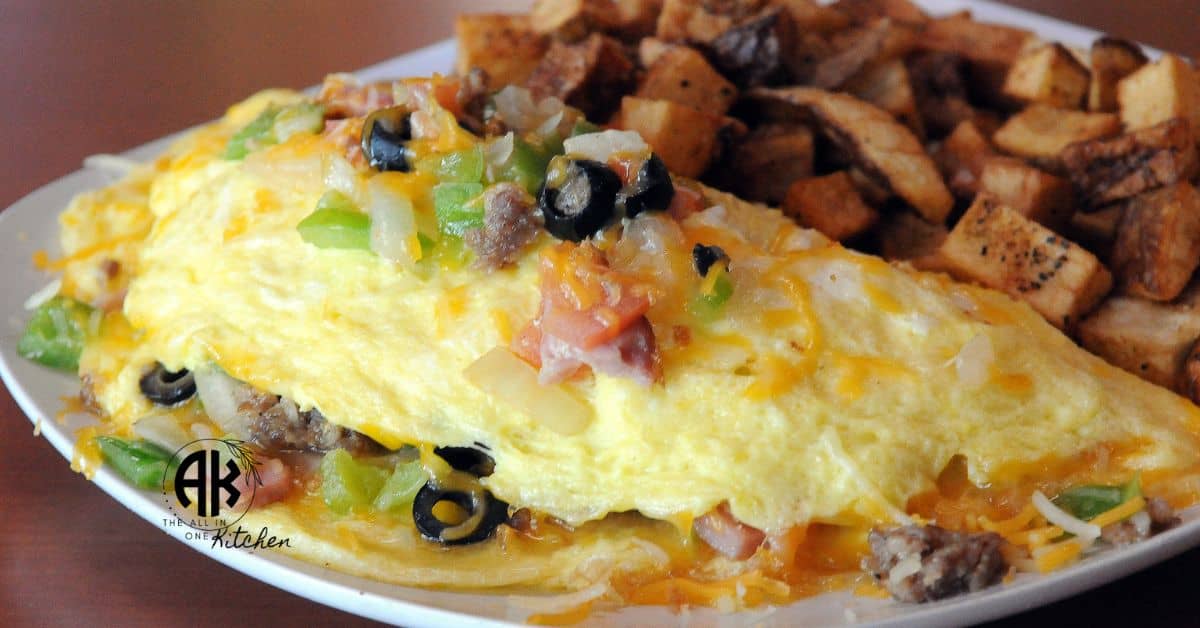 Are Baked Potatoes Better in The Microwave or Air Fryer?
The microwave is used when making quick-baked potatoes. Because it cooks very quickly in the microwave. However, soft potato skins from microwaving may not be to everyone's taste because the potato skins are not so crispy or crunchy that they do not taste good. But don't worry! Let the air fryer give your cooking a wonderful taste.
The air fryer does its magic in just twenty minutes, giving you a freshly cooked potato with a delicious crispy shell. The air fryer eliminates the need to choose between speed and texture as it quickly produces a delicious potato. Therefore, the Air Fryer is the ideal kitchen partner if you are looking for the taste and texture of a traditional baked potato without compromising on quality.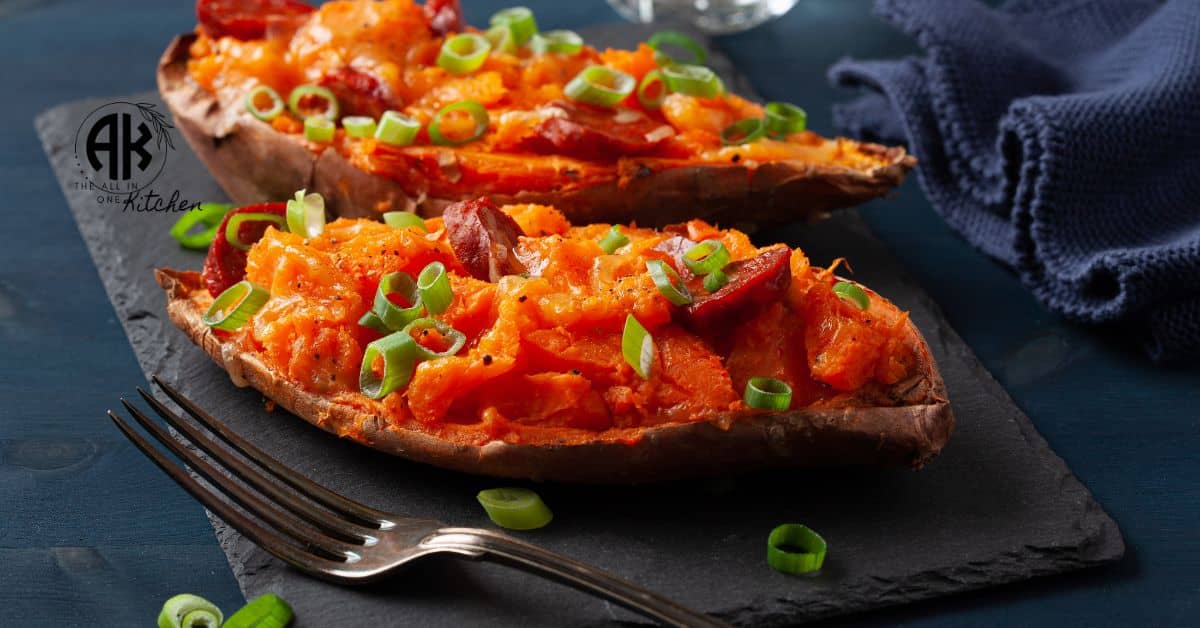 How To Cook Twice-Baked Potatoes In Air Fryer
Cooking twice-baked potatoes in the air fryer is a breeze! Follow this simple guide for that delicious crispy goodness:
Prep the Potatoes: Select medium-sized baking potatoes, scrub them clean, and pat them dry. Pierce each with a fork for steam escape.
Air Fry the Potatoes: Preheat the air fryer to 400°F (200°C). Place the potatoes directly in the basket and cook for 35 to 40 minutes, flipping halfway for even browning.
Scoop and Mix: Let the potatoes cool slightly, then scoop out the fluffy interior into a bowl, leaving the shell.
Add the Goodies: Combine the scooped potato with your favorite mix-ins like cheese, sour cream, bacon, chives, and seasonings.
Refill and Air Fry Again: Stuff the potato shells generously and return to the air fryer for 8 to 10 minutes until golden and crispy.
More Delicious Recipe
Best Ever Instant Pot Air Fryer Boneless Chicken Breast Recipes
A Delicious and Healthy Air Fryer Chicken Nuggets
Simple Air Fryer Lemon Garlic Chicken Breast
The Perfect Subgum Wonton Soup
The Secret to Dave's Hot Chicken How to Make It at Home
Delicious Crack Broccoli Recipe
What Are The Best Potatoes For Twice Baked Potatoes
The proper potato variety must be chosen in order to create the ideal twice-baked potatoes. The adaptable Russet potato, sometimes known as the Idaho potato, is the answer. After baking and scooping, these potatoes have a fluffy and creamy interior because to their high starch content.
The thick skin of russet potatoes crisps up wonderfully when baked or air-fried. They are ideal canvases for absorbing and amplifying a variety of add-ins, such as cheese, bacon, sour cream, herbs, and spices because of their bland flavour. They are thus the best option for delicious and individualized twice-baked potatoes.
While Yukon Gold or red potatoes can be used for variety, Russet potatoes stand out for the traditional, twice-baked potato taste and texture of a restaurant. Use trustworthy and delicious Russet potatoes to elevate your cuisine for the best outcomes.
Air Fryer Twice Baked Potato Recipe
Let us share with you an amazing recipe known as your Air Fryer Twice Baked Potato recipes. This step-by-step guide will show you how to use your air fryer to get perfectly crispy yet creamy Twice Baked Potatoes. Don't worry if you have never cooked, you can master this recipe
Best Air Fryer Twice Baked Potato Recipe
Let us share with you an amazing recipe known as your Air Fryer Twice Baked Potato recipe. This step-by-step guide will show you how to use your air fryer to get perfectly crispy yet creamy Twice Baked Potatoes.
Ingredients
4

large

potatoes

1

tbsp

olive oil

½

cup

sour cream

¼

cup

milk

4

tbsp

unsalted butter, softened

1

cup

shredded cheddar cheese

½

cup

cooked and crumbled bacon

2

small

onions, thinly sliced

Salt and pepper to taste
Instructions
Preheat your air fryer to 400°F (200°C) while you prepare the potatoes.

Scrub the potatoes thoroughly under running water to remove any dirt. Pat them dry with a paper towel.

Pierce each potato multiple times with a fork to allow steam to escape during cooking.

Rub the potatoes with olive oil and sprinkle them with salt. Place them in the air fryer basket, making sure they are not overcrowded.

Air fry the potatoes at 400°F for 35-40 minutes, flipping them halfway through the cooking time, until they are tender and the skin is crispy.

Remove the potatoes from the air fryer and allow them to cool for a few minutes until they are easy to handle.

Once cooled, slice off the top third of each potato, lengthwise.

Gently scoop out the flesh from the potato halves into a bowl, leaving a thin layer of potato against the skin to create a sturdy shell.

In the bowl with the potato flesh, add sour cream, milk, softened butter, half of the shredded cheddar cheese, half of the crumbled bacon, half of the sliced green onions, salt, and pepper. Mash and mix everything together until well combined.

Stuff the potato shells with the creamy mixture, making sure they are generously filled.

Sprinkle the remaining shredded cheddar cheese and crumbled bacon on top of the stuffed potatoes.

Air fry the stuffed potatoes again at 400°F for 10-15 minutes until the cheese is melted and bubbly.

Garnish with the rest of the sliced green onions before serving.
Video
Notes
Tips for Perfect Twice-Baked Potatoes
To make the best Twice Baked Potatoes in the Air Fryer and ensure their success, follow these expert tips:
Choose the right potatoes: Large russet potatoes provide the best flavor and texture. Due to their starchy texture, they are perfect for making creamy interiors.
Season the potato skins properly: The key to the flavor of twice-baked potatoes is to season the skins with salt and olive oil before air-frying. By doing this, the flavor is enhanced and the outside is made crispy.
While it may be tempting to prevent the potato skins from becoming overly thick, avoid doing so.
Use your imagination when choosing toppings: You're welcome to experiment with other toppings to add a distinct flavor layer, such as chives, shredded cheese, or even a dab of sour cream.
Conclusion
Enjoy the best air fryer twice-baked potato recipe, which is really yummy and simple to prepare. These potatoes are guaranteed to become a family favorite since they are crispy, creamy, and cheesy. Using only a few basic ingredients and your dependable air fryer, you can prepare a dinner that will satisfy even the pickiest diners. Why then wait? Start up your air fryer and indulge in this delicious treat!
Can I use other types of potatoes for this recipe?
While russet potatoes are ideal, you can use Yukon Gold or Idaho potatoes as well. However, russets work best due to their fluffy texture.
Can I prepare the filling in advance?
Absolutely! You can make the creamy filling ahead of time and refrigerate it. Just remember to bring it to room temperature before stuffing the potato shells.
How can I make this recipe vegetarian-friendly?
To make this dish vegetarian, simply omit the bacon. You can enhance the flavors by adding sautéed vegetables like bell peppers and onions to the filling.
Can I freeze the stuffed potatoes?
Yes, you can freeze the stuffed potatoes before the final air frying step. Wrap them individually in foil or plastic wrap, and they will be ready to enjoy at a later time.
What other herbs can I add to the filling?
Feel free to add herbs like chives, parsley, or dill to the filling for an extra burst of flavor.
How do I store leftover twice baked potatoes?
If you have any leftovers, store them in an airtight container in the refrigerator. Reheat them in the air fryer for a few minutes to regain their crispiness.